Tomorrowland: The Future Today?
Our journey through the rides and attractions of Disneyland has, sadly, almost concluded. We have indulged in our adventurous, fantastical and historical side and now comes the time to look to the hope of the future at Tomorrowland…well sort of future.
Gone are the days when what was offered here was an exciting glimpse into the world of tomorrow, with 80% of this land's attractions still connected to the Cold War's Space Race or set a long, long time ago in a galaxy far, far away.
Despite its need for a bit of a re-theming, I still enjoy the attractions on offer at Tomorrowland, as it has plenty for  families and thrill seekers alike. (Just don't eat here!)
Here's What Turk from Scrubs has to say about Tomorrowland's Attractions:
Space Mountain
Attraction Specifications
– Ride Type: Indoor, Dark Roller-coaster
– Height Requirements: 112 cm
– Attraction Duration: 3 mins
– Height: 23 Metres
– Track Length: 925 Metres
– Fastpass: Yes
-Rider Switch: Yes
– Year Opened: 1977
– Recommendation: Unmissable
– Hours: Open-Close
– Average Queue Time: 60 Minutes
Overview
Space Mountain is up there with the most famous attractions at Disneyland. It is a very dark, roller coaster ride that makes you feel like you are flying through outer space.
Walt and his imagineers had come up with the idea for an indoor, space themed roller-coaster, many years before its opening  but the technology was simply not available before Walt's death in 1966. It was also the first attraction that was not initially built for Disneyland CA, with Space Mountain at Walt Disney World opening two years prior.
Since its opening, Space Mountain has undergone many face-lifts. From queues with "futuristic escalators", to ugly paint jobs. It was even closed for 2 years for a complete track replacement (same layout), opening in time to celebrate Disneyland's 50th Anniversary in 2005. Despite all these changes it remains, virtually, the same ride as when it opened.
The ridiculous copper face lift of Tomorrowland featuring Space Mountain.
Description
As we have grown accustomed to from Disneyland, the main part of the queue for Space Mountain is well themed and detailed. It feels very 70s, having a bit of a "Close Encounters of the Third Kind" vibe but it still gets you excited.
The excitement of the Space Race translates to the Space Mountain queue. Sourced from Touring Plans.
After queuing for some time, you finally board your "rocket car" ready for your "plunge into super space." Before you know it you're scaling a chain lift hill with lights flashing and adventurous music playing. The countdown begins and the soundtrack tempo triples.
From here on in you actually have no idea what's going on. Everything becomes a blur. You can't see where you are going as you hurtle around the track, whizzing past stars and spacey projections but not knowing where the turns are coming from.
Suddenly a flash of light. Yep, that was the photo op that you had no idea was coming and will inevitably look ridiculous.
As always, you safely return to the "launch pad", feeling exhilarated or terrified, with what you have just experienced.
Verdict
The most thrilling ride at the Disneyland Park, Space Mountain is simply a must do for all those who are able. It's not the tallest or fastest roller coaster in the world but the darkness makes it feel that way. I like to call it the Pringles ride: "Once you Pop, you Can't Stop!"
Top Tip: If you are a thrill seeker and desperately need to ride Space Mountain, pick up a FastPass as soon as you enter Disneyland. This will ensure you get on before lunch and tick that box immediately. Waiting for your FastPass will also allow you to explore or queue for a different attraciton.
Note: I would put a video here but most of the video is in total darkness. Instead maybe you could put a blind fold on next time your in the car (not driving of course) or close your eyes going down a slide at the park.
Star Tours
The Star Tours Queue gives you a glimpse of your ride vehicle along with a C-3PO Animatronic.
Attraction Specifications
– Height Requirements: 102 cm
– Attraction Duration: 5 mins
– Fastpass: Yes
-Rider Switch: Yes
– Year Opened: 1987
– Recommendation: Do (Except if you suffer motion sickness)
– Hours: Open-Close
– Average Queue Time: 45 Minutes
Ride Overview
Star Tours is a 3D motion simulator ride based on the Star Wars franchise that takes you on a "tour" of the films' famous sites. It was the first motion simulator purposed for ride conveyance and was the catalyst for the Disney/Lucas Film relationship.
The original story was set after The Return of the Jedi. The villains of the films had been defeated and the Rebel Alliance had begun its rebuild of the galaxy. Of course, part of any good rebuild, following a destructive war, is setting up a pleasure tour business, to highlight sites of significant battles.
One of the depots for this touring company was fortunately established in Disneyland so the people of earth could see what kind of crazy hi-jinx other galaxies get up to.
The initial tour was a journey to the Forest Moon of Endor but since 2011 riders have also been able to visit Coruscant, Hoth, Jakku, Kashyyyk, Naboo, Tatooine and The Death Star.
Where you go and the dangers you encounter are completely random, as are the characters you meet, which keeps things interesting for ride returns.
Ride Description
The queue was always designed to be a significant feature of Star Tours. As you make your way down the winding ramp you pass '3PO and R2 fixing a damaged star ship. You may also pass advertisements for all kinds of holiday destinations throughout the galaxy. From here everything feels very much Airport like. There's customs, baggage drop offs and departure gates with screens giving boarding instructions. Very detailed.
After picking up your 3D glasses you board and begin your adventure to who knows where! Of course something has to go wrong with your take off and you end up being chased by Imperial forces.
On one of my rides I was stopped and shaken about by Darth Vader before managing to escape through the maintenance exit.
Due to the ride's random nature I can't really go into too many more specifics here but whatever your journey it will be exciting and definitely familiar.
Verdict
This is a tricky one because much of the enjoyment of Star Tours comes down to how much you like the movies. If you hate Star Wars or have never seen it don't bother. However, if you have seen the movies or are a complete Star Nerd then you will probably enjoy the ride immensely. I fall in the middle category here. I have never made it a priority but I do enjoy this excellent example of Immersive Motion Simulators.
Spoiler Alert: Please find a point of view of one of the scenarios you may encounter on Star Tours. Video thanks to Sharp Productions.
Finding Nemo Submarine Voyage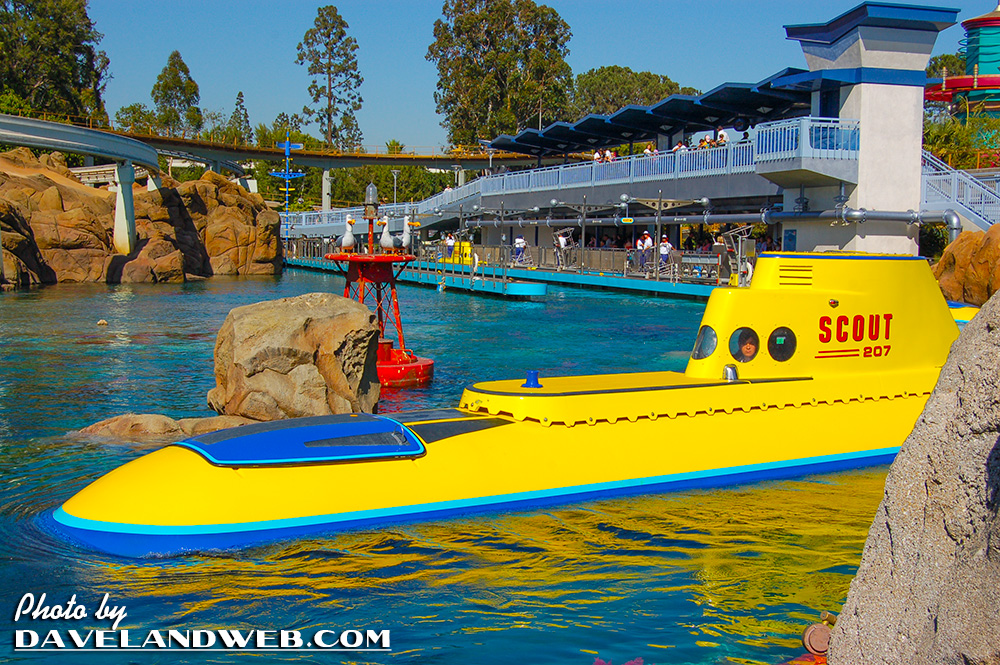 The Updated Incarnation of the Submarine Voyage has featured Nemo since 2007. Image Thanks to Daveland.
Attraction Specifications
– Ride Type: Slow Moving Water Ride
– Height Requirements: No
– Attraction Duration: 14 mins
– Fastpass: No
-Rider Switch: No
– Year Opened: 2007 (Original Submarine Voyage: 1959)
– Hours: Open-Close
– Average Queue Time: 30 Minutes
Ride Overview
The Finding Nemo Submarine Voyage is an underwater adventure that takes you through great scenery and features projections of characters from the movie franchise.
Originally "Submarine Voyage" (opened in 1959), this attraction was probably a glimpse into what many thought would be the future of water travel. Under this title, it operated until 1998 and featured underwater creature encounters as well as real live mermaids (above and below the surface).
After the subs closed in 1998 (due to operating costs), the Tomorrowland Lagoon lay dormant. It remained something nice to look at but that was about it.
It was finally recommissioned under the Nemo name, opening in 2007, with 3D models of animals replaced with clever underwater projections and mermaids replaced with selfish seagulls!
Ride Description
Your Journey begins as you board your N.E.M.O (Nautical Exploration and Marine Observation) Submarine and take a seat at your porthole. A terrible Australian accent greets you on board as you begin your descent to the "fathoms below." This part actually makes you feel like your descending, as bubbles surround the sub.
Continuing, you come across a typical coral reef ecosystem, passing scuba divers (including Darla) looking for exotic fish. From here you see your first fishy projection of Mr Ray and class. You, of course, can hear them with the "sonar hydrophones" built into your vessel. These scenes are present throughout the rest of the ride.
Other highlights of the ride include the uncovering of an ancient civilisation due to a deep sea volcano, ship wreck graveyards and a storm that forces you further below.
Experiencing all this you will never have to go in a real submarine…Hooray!
Off-ride Experience: People who are not able to get on the subs due to accessibility issues or claustrophobia can go to the end of the dock, to the "Observation Outpost" and watch a high def version of the ride via "Sub-cam"! Very considerate addition.
Verdict
Apart from the awful attempts at Australian accents (which sound a little like Rocko from Rocko's Modern Life), I like the submarines. Disney Imagineering took a somewhat tired old ride and made it relevant again, playing on the mental real estate that has been ingrained in us since 1937. Is it futuristic? No. But not much in Tomorrowland is. It's a definite do from me but avoid if claustrophobic.
Top Tip: How to put this nicely. 15 minutes in a tin capsule with many other guests is not particularly conducive to rosey aromas. This is especially the case if you ride after said guests have been traversing Disneyland for much of the day. So, simply, get on Finding Nemo early. It's the perfect ride while waiting for your Space Mountain Fastpass window.
Spoiler Alert: Please find the Finding Nemo Ride below thanks to EvanTubeHD.
Autopia
Walt in his pride and joy! Source Unknown.
Attraction Specifications
– Ride Type: Slow Moving Go Kart
– Height Requirements: To drive by yourself: 137cm; To drive with an adult: 81cm; To ride and not drive: No restrictions.
– Attraction Duration: 5 mins
– Fastpass: No
-Rider Switch: No
– Year Opened: 1955 (Opening Day)
– Recommendation: If you want.
– Hours: Open-Close
– Average Queue Time: 30 Minutes
Ride Overview/Description
"Hey guys check out these new horseless carriages! They don't need a horse to move!" OK now I'm being a little facetious about the lack of Tomorrow in Tomorrowland. The fact is Autopia  is among the most institutiony attractions at Disneyland.
A Pleasant Drive on the Scenic Autopia. Sourced from Disneyland
The reason it exists in Tomorrowland is because "Freeway" was the buzzword of the 50s, especially in Los Angeles. Everyone would be taking these brilliant, fast, bitumen marvels. Unfortunately, everyone did. However, without the massive freeway expansion during the planning of Disneyland, the park may have simply become a small expansion of the Burbank Studios closer to Hollywood.
Without going too much into its history (I might save this for a much later post) there have been a tonne of car changes since opening day. The most recent came in 2016 with a face-lift and sponsorship change to Honda.
One Example of the 2016 Honda Autopia Cars. Sourced from The Fast Lane Car
Now to the ride itself. Have you ever ridden the Vintage Cars at Dreamworld? Well this is pretty much exactly the same. While you (or your kids) are able to steer and use the pedals, your speed is limited to 10km/h and your movement is restricted by a centre guard rail. Your drive is quite pleasant, unlike most freeway experiences, as you pass through treed areas and plenty of "punny" billboards; just hope you are not stuck behind someone going slower than 10km/h.
Verdict
There's something about being able to drive by themselves that makes kids go crazy for Autopia. This is why it has lasted so long at Disneyland and features in most other Disney Parks. For adults it's OK but I just felt so restricted. I give it a definite do for kids but an "If you want" for adults (unless supervising your child).
Note: This is not a good practice ground for driving in America. It did not help me in the least.
Spoiler Alert: Below is the full Autopia experience POV. Video courtesy of SoCal Attractions 360.
Buzz Light Year Astro Blasters

These Vehicles spin as you move through the scenes for better shooting accuracy. Photo sourced from Disneyland
Attraction Specifications
– Ride Type: Interactive Dark Ride
– Height Requirements: No
– Attraction Duration: 5 mins
– Fastpass: No
-Rider Switch: No
– Year Opened: 2005
– Hours: Open-Close
– Average Queue Time: 35 Minutes
Overview/Description
If you've ever been on the Justice League Ride at Movie World then this is literally exactly the same concept. You move around in your vehicle shooting evil alien creatures. The key difference being that you feel like you've been shrunk down to the size of a toy action figure, to conquer Zurg, instead of starfish shaped cyclopses .
The queue is, once again, classic Disneyland with a fantastic audio-animatronic Buzz Lightyear and Etch a Sketch a feature, along with many other objects that make the shrinking process convincing.
Buzz Light Year and Etch a Sketch Animatronics. Image Courtesy of Jake Spence of AllEars.net
Similar to The Haunted Mansion, it also has a continuous motion loading dock, meaning you will need to be quick hopping onto your ride vehicle. Challenging when you have a baby in your arms but still manageable.
The ride itself is a pretty standard shoot 'em up. Fire your guns at the evil things with lights and you get a score at the end. It's always fun competition and is the reason why I go on these kinds of rides.
Verdict
Overall Buzz Lightyear's Astro Blasters is a fun little ride that you should do, especially with kids. However, if you do miss out on it, no stress as you can literally go on the same ride closer to home.
Top Tip: If you're really keen to win on this ride, forget accuracy. Just fire wildly and continuously in the targets general direction. If you take your time someone will beat you to it!
Spoiler Alert: You know the drill. If you don't want to know the scores look away now…Video courtesy of The Coaster Views.
Disneyland Monorail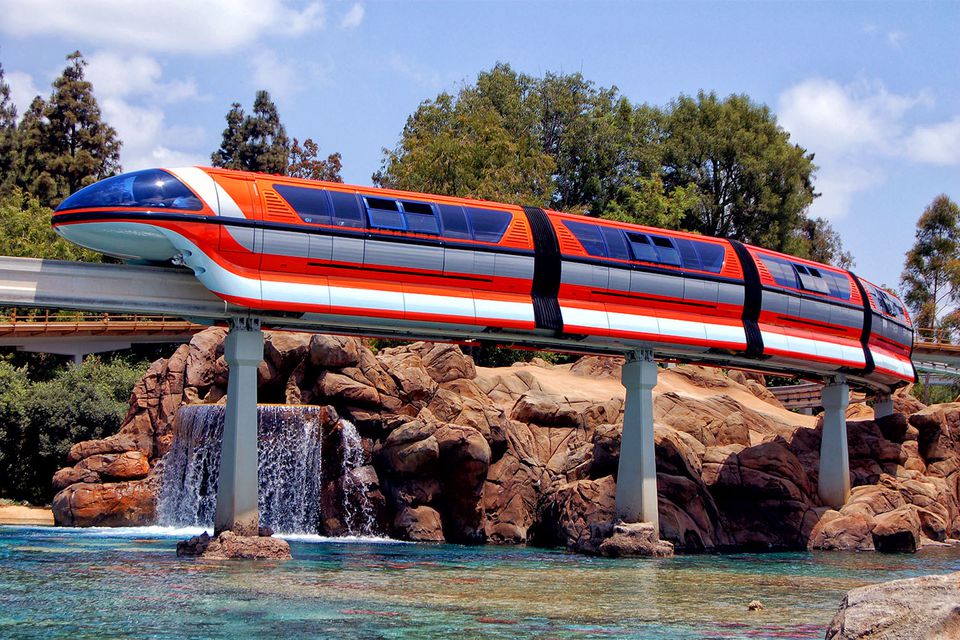 The Monorail crossing Tomorrowland Lagoon. Photo thanks to Trip Savvy
Attraction Specifications
– Height Requirements: No
– Attraction Duration: 11 minutes
– Area: Tomorrowland/Downtown Disney
– Fastpass: No
-Rider Switch: No
– Year Opened: 1959
– Recommendation: Not Essential
– Hours: Open-Close
– Average Queue Time: 5-10 Minutes
Attraction Overview
Everyone loves a good ol' fashioned monorail right? Even if you don't Walt Disney (and the Simpsons) certainly did! He genuinely believed that this was the future of urban transportation, after seeing one in Germany in his European tour of 1958. So he went right ahead and built his own for Tomorrowland.
Walt was so proud of his monorail and thought he had solved inner city congestion. He often showed it to visiting politicians but they never took him up on his ideas. Probably because, by that stage, they had already spent millions on freeways and the automotive industry.
Disneyland's Monorail was the first ever built in the United States and the only one (at the time) in the Western Hemisphere, to operate daily. The trains have been redeveloped seven times with the track expanding from a simple circuit around Tomorrowland to outside of the park.
It was opened the same day as the Submarines and the Matterhorn and due to its history is now considered a US Mechanical Landmark.
Attraction Description
The Disneyland Monorail has two stations. One in Tomorrowland and one in The Downtown Disney district (outside of the park). When leaving from the Tomorrowland station it immediately leaves the park and heads passed parts of California Adventure and the Grand Californian Hotel. You're in Downtown Disney. If it is a busy day you will be forced off the monorail at Downtown Disney and have to re-queue to get back on. Otherwise it's just a standard round trip deal.
From Downtown Disney you make you way back into the Disneyland Park, do a little tour of Tomorrowland and get a glimpse of Fantasyland. (I presume this part would have been what the original ride entailed.) You are then returned from where you started.
Verdict
Monorails. They are a rarity in Australia since the Sydney one was de-commissioned, so for the novelty factor give it a whirl. The Disneyland Monorail adds good atmosphere around the parks, as do most of the other transport rides. I did it on my first trip. Didn't like it…Maybe because it was night time and couldn't see. It does offer an interesting view of Disneyland but there's not enough of it. Having said that, you might have a completely different experience to me and love it!
Top Tip: This tip's a belter. If there's one thing that the monorail is good for it's entering the park early. If you are staying at a Disney Hotel use the monorail to get into the park with your Magic Mornings. The lines are much shorter than at the main gates and it drops you right at Tomorrowland. This means you might not even need a FastPass for Space Mountain! Unfortunately this option is not available for standard Magic Mornings.
Spoiler Alert: Here's the POV of the Monorail. It's not the most interesting video out there but if anything it might help with your decision making on its worthiness. Video thanks to Inside the Magic.
Astro Orbiter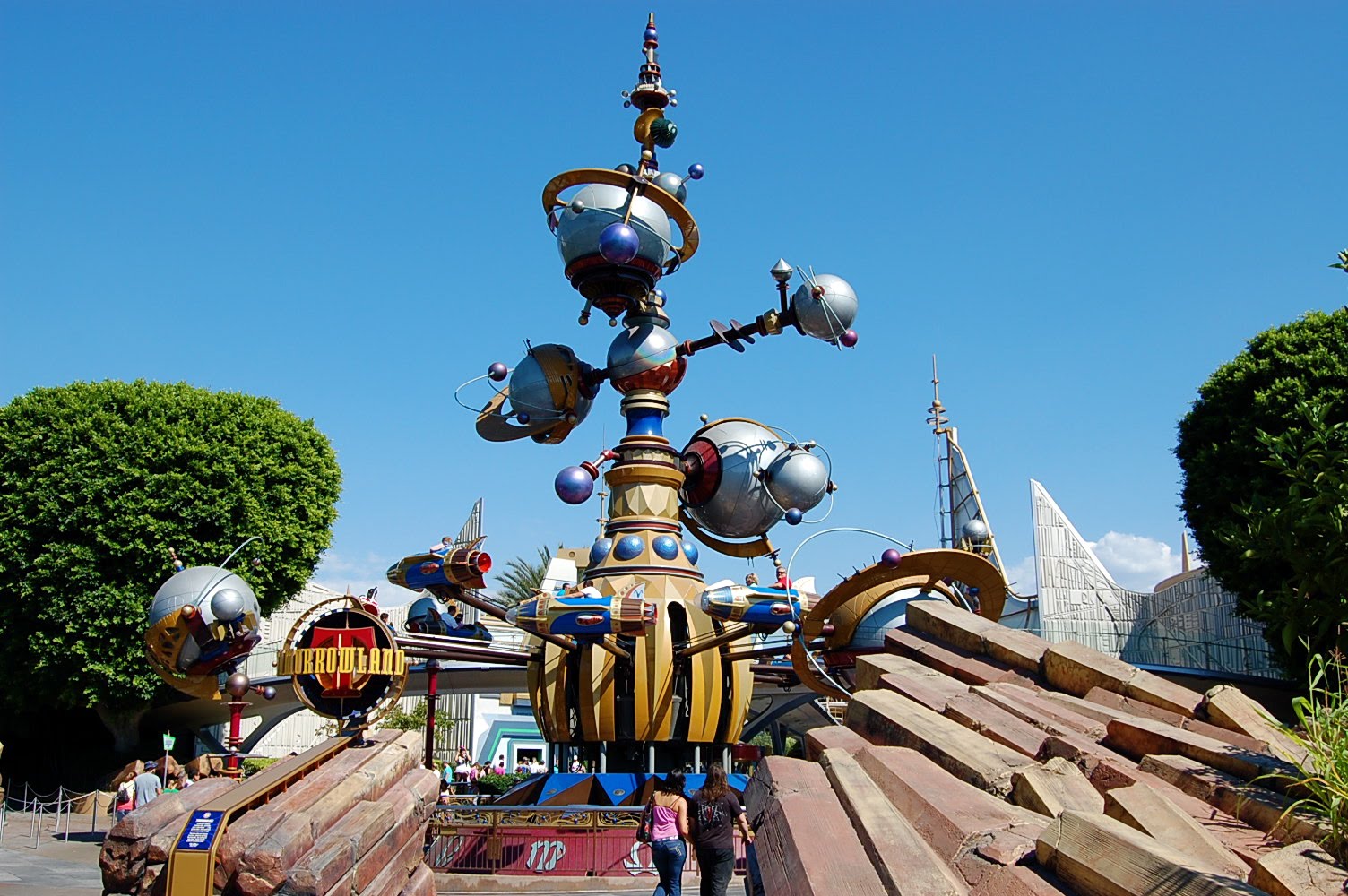 The Astro Orbiter welcoming us into Tomorrowland. Image courtesy of Disney Wikia.
Attraction Specifications
– Ride Type: Spinning Carnival Ride
– Height Requirements: No
– Attraction Duration: 1.5 mins
– Fastpass: No
-Rider Switch: No
– Year Opened: Original – 1956, Current – 1998
– Recommendation: Missable
– Hours: Open-Close
– Average Queue Time: 30 Minutes
Attraction Overview/Description/Verdict
Not much to say about this attraction. The ride has had a couple of incarnations in it's history but was closed in '66 for Tomorrowland upgrades. It was not rebuilt again until 1998. It is very intricately detailed for such a basic ride and provides a great "atmosphere" that sets the tone for the area.
The ride itself is basically Dumbo for older kids. It is taller and a little faster but it's the same concept, whereby you control your up and down movements. Unlike Dumbo though, I recommend you do not take kids under 3 on this one. They allow you to but it definitely makes it scary.
No one goes to Disneyland for the Astor Orbiter. It's a filler attraction that serves a purpose but is by no means essential.
The Other Star Wars Attractions
Star Wars Launch Bay
The Star Wars Museum. Image thanks to Disneyland
Essentially the Star Wars Launch Bay (opened in 2015) is a big Star Wars museum featuring memorabilia from all of the movies. There are also character Meet and Greet options here, with Chewbacca and Darth Vader the most common. When I was at Disneyland last, this attraction had just opened and lines to see these two characters were 2 hours. It's not that bad anymore but in busy times you might have to wait 30 minutes.
I'd be giving this a miss if you are anything but obsessed with Star Wars. It's just not that interesting.
Path of the Jedi
No don't go in! "It's a trap!" (Note: This isn't the actual Disneyland one but it was the only one with people in it, so I could make my "It's a trap" joke. Image from Disney Wikia
I'm going to do something I haven't done yet and begin with my verdict. DON'T DO IT! Even if you love Star Wars. It is simply a compilation movie of the best bits of Star Wars. Truly a waste of your precious Disney time.
Jedi Training: Trials of the Temple
This is an interactive show in which children are given a robe and a light-sabre and face-off against either Kylo Ren or Darth Vader. Bit of fun for the kids.
Tomorrowland Finale
There we have all of Tomorrowland's attractions! And all of Disneyland's main attractions for that matter! I hope you've enjoyed my take on these rides and I congratulate you if you have actually read them all.
Next up my top Ten Tips for Disneyland Attractions I rank my top Ten Disneyland Rides!