Top Tips: Managing Disneyland Rides
It's the age old question: How do I plan my day at Disneyland to ensure I get on all the rides I want to, with limited wait times?
I'm sure this question resonates profoundly with all of you so I have provided a list of strategies that will help you solve this conundrum.
Note: Some of these tips will be repeated from previous posts but I thought I would compile them for your convenience.
Top Tips 1: When to Go
I have covered this a little in my When to Go post, a few months ago but it needs to be reiterated. This will genuinely affect your ability to do every ride you want with the smallest wait times. Here's what you need to keep in mind:
– Go off peak. Between Late September and Early December (Bar Public Holidays) is perfect. You may not have as  good an atmosphere as in Peak times but on my last trip I managed to do everything with a maximum wait time of 30 minutes.
– Avoid January, February and March. This is the big maintenance period for rides. You will be guaranteed to miss out on at least two major (and I mean Space Mountain Major) attractions if you go at this time.
– Weekdays during American School times are really quiet.
 
Completely Off Peak Disneyland…Amazing! (Somewhat rare though.) 

An extreme Case of the Super Crowds. Sourced from the Orange County Register.
Top Tips 2: Timing is Everything
During each day there are times where queues are generally shorter by a good 10 minutes or so.
– Lunch Times: Have lunch/dinner earlier or later than anyone else and you will be able to take advantage of 1. Not waiting in line for your lunch and 2. Getting shorter queues on popular rides.
– Parade or Major Show Times: When everyone else is watching the parades or Major Shows (Fantasmic/Fireworks) get on the rides. Try to keep in the one land/area during parade and show times though, as crossing the park becomes particularly difficult.
– Magic Mornings: Utilise your Magic Morning by being one of the first to enter the park. Crowds aren't as small as you think but still there's a lot less in there than there is at 10am.
Top Tips 3: To Fastpass or not to FastPass
Utilise the Fastpass system to its full extent. Know which ride you really want to get on first and get a FastPass for that attraction as soon as you enter the park. This is particularly necessary for the following rides:
– Splash Mountain (in warmer months)
It is also really important to remember that any queue time 20 minutes and under is really not worth wasting a FastPass for.
Despite the FastPass System, sometimes we will just need to face the facts and queue. Sourced from Imgur.
Top Tips 4: Rides without FastPasses
There are plenty of rides without FastPasses, especially in Fantasyland. But which popular ones are worth waiting in the Standby queue for?
– Finding Nemo: Submarine Voyage
These rides can have very long lines (up to 60 minutes) but play your cards right and you can get on in under 30 minutes. They are perfect (and quality) rides, while waiting for your FastPass window to open.
Top Tips 5: Rider Switch and Max Pass
Never forget about the Rider Switch System and how to use it to your advantage. You can hold at least two FastPasses at once if used correctly.
Three FastPasses (Including Rider Switch) for Three Different Rides. The rules and operation of these has changed slightly so be sure to read up on the new Rider Switch System. 
Max Pass is also always available for your whole trip or for a day or two. Just a simpler way to manage your FastPasses and day.
Top Tips 6: Midnight Mayhem
The best thing about Disneyland in Peak Times and Weekends is that it stays open 'til midnight (including most of the popular rides)! If you are able to, you must do this at least
 once. As soon as the Fireworks and shows finish, most people go home. That's roughly 2.5 hours of fun to be had with limited queues. Once I went on Space Mountain with a tiny queue of 15 minutes.
The following are attractions that typically close before the night time shows:
– All of Mickey's Toon Town
– The Rivers of America Attractions.
While we are on the topic of night time, some rides are even more brilliant in the dark. My two favourite after dark rides are Big Thunder Mountain and The Matterhorn.

Disneyland at night is awesome. Photo Taken from my trip during the 60th Anniversary in 2015.
Top Tips 7: Count Your Days
I've definitely mentioned this before but anything less than a 3 day ticket and you're cheating yourself! The best way to manage the inevitable crowds is to spend more time at the parks and less time in the queues. By this I simply mean that by going at least 3 days you are able to be selective about what rides to go on and when. Optimising your time in the park.
Top Tips 8: Disney Queue Psychology
Disney Parks are a little sneaky. They deliberately over estimate a ride's queue by at least 5-10 minutes, making you feel like you are super lucky because you got on the ride in 35 minutes instead of the advertised 45. This is also helped by the immersive nature most ride's queue theming. So when looking at wait times on your app, there's something extra to consider, especially when making FastPass choices.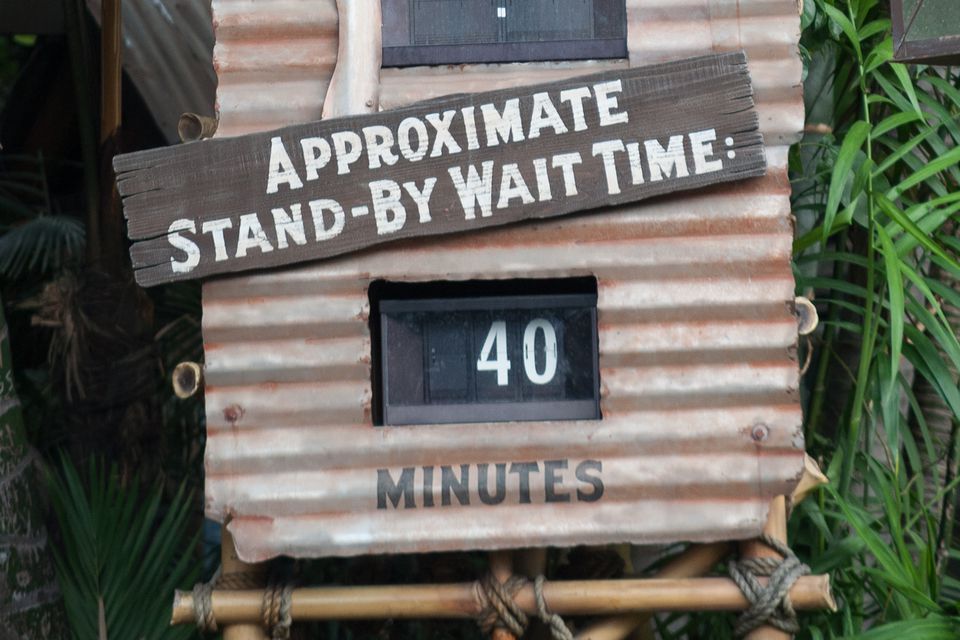 Confidently Shave off about 5-10 minutes from this Queue Wait Time. Sourced from Trip Savvy
Top Tips 9: Use your App Regularly
Disneyland has free in park Wi-Fi now, so using the app for navigation and Max Pass services won't cost you exorbitant data charges. This will ensure you see regular updates of wait times and what rides are operating. I was looking at my App just before and boy is it busy for the Easter Holiday Week. Most Wait times up by about 40% minimum.
Top Tips 10: Study Up
Whether it's on here or other sites you find useful; study up on the rides/attractions you want to do. YouTube has a tonne of videos of literally every attraction, many of which I have included in my ride summaries. This will enable you to set your priorities for your trip, especially if you are only there for a day. (Which you wouldn't do after I have told you so many times not to.)

This man always had a great trip to Disneyland…
Final Note
There you have my generic tips for ensuring your enjoyment of the rides and attractions at Disneyland. Just remember, sometimes lines are unavoidable but if you are going to be stuck in one, at least it's at Disneyland and not the Bank or Centrelink.
As always remember these are just my personal strategies for tackling Disneyland rides if you want to continue to research more, feel free. Or comment below with strategies that have worked for you and any questions you may have.
–