Top Tips: Cast Members and Dining
Did you know that Cosmic Ray's at Walt Disney World is the second busiest restaurant in the world? That's right; the only restaurant that sees more people each day is the McDonalds in Moscow. Crazy!*
Cosmic Ray's: The Second Busiest Restaurant in the World! 
With that many guests coming through each Disney park restaurant, there is the potential for the Disney dining experience to be rather stressful. We have all been there. The lines are long, the hanger is real and the attractions are calling your kids names (yours too). It's tough to keep energy levels high and patience is a whole other issue, I feel you! Whatever you do, know that we have all become overwhelmed in a quick service queue (sometimes not so quick), and opted to rush to Space Mountain scoffing down another boring cheeseburger. If not for the inevitable indigestion alone, I highly recommend avoiding the temptation to dismiss Disney dining. Take your time to enjoy your meals, they can be magical too.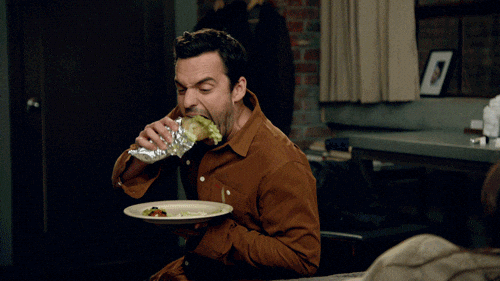 No time! Space Mountain is calling! Sourced from Giphy.
Disney pays close attention to the theming and service across all Disney park dining options. Whether your taste buds are drooling for clam chowder in Disneyland or fried chicken and waffles in the Magic Kingdom, Disney food is delicious. There is even an official instagram account dedicated to Disney food, check out @disneyeats! As always, behind the magic are the dining cast members. They come in a number of varieties, from street vendors, to quick service attendants and all the way to your full service waiter (better known as a server at Disney). Below are a few pointers on how to make the most of their hospitality. As Lumiere would say, 'pull up a chair and … be our guest!'
1. Ask for personal opinions.
Whether you are opting for quick service, or full service, there are often so many tasty options (part of the magic!) Why not ask your dining cast member for some recommendations? Part of the training process is to taste the menu and learn how to describe each menu item. Your cast member will have opinions, they have tried it all! Personalise your experience and start up a conversation about the menu. Perhaps you've never considered shrimp and grits, but at Cinderella's Royal Table (WDW), it's the best thing on offer. At least that is what I used to recommend!
2. Cast member, or photographer?
We spend so much time at Disney parks trying to capture the moment. Go ahead and ask your dining cast member to take the pic. The dining experience is special; you should have the memories for as long as you can. Turn your cast member into your photographer and you'll never forget one of your most magical lunches!
3. Morning reservations
Disney Dining reservations are like gold. With bookings open up to six months (at Walt Disney World) in advance, your perfect meal time at your top restaurant is likely unavailable without a reservation. It's a trap that so many guests fall in to, especially at Cinderella's Royal Table. Guests see the castle, discover there is a restaurant inside and then start a mission to eat there… Hate to say it, but his is a mission destined to fail. However, it doesn't hurt to try your luck for a last minute morning reservation. First thing in the morning, head to you preferred restaurant and ask the cast member behind the computer if there is anything available that day. Sometimes last minute reservations, especially at odd times, go unused. There is no harm in asking!

Bookings are absolutely essential at Cinderella's Royal Table, inside the Castle itself! Image courtesy of Ethically Yours
4. If not here, then where?
Even if you're not able to squeeze in to the Crystal Palace (shame, it's epic), don't leave empty handed! If your dining cast member is good (I'm sure they will be), they will know about all of the other dining options in the park. Seek recommendations, ask what's on the other menus and even request that they call the other restaurant and check if a reservation is available there. Like I said, you will never know if you don't ask!
5. Keep it clean
This one is straight from the dining cast member in me – wherever you dine, please keep it clean. There is nothing a cast member will appreciate more than a clean table. More than that, there is nothing they will detest more than a pigsty! Earn yourself some solid Disney karma and wipe the chicken nugget crumbs up. You might even be complimented on your well behaved children! It's the little things in life that count, right?
6. Today is my (un)birthday!
One of my favourite Disney hacks is that everyday is your birthday! Whether it is your actual birthday or your "unbirthday", let your cast members know that you are celebrating. If you mention it's your birthday, you should find a sweet treat coming your way! It's better that a cupcake be enjoyed by your little ones than be wasted at the end of the day. Trust me, you won't be the only guests who are "celebrating" … I won't tell anyone, promise!
Free Mickey Cupcakes on your Birthday (or Unbirthday) Always Hit the Spot!
Ta da! If you keep these handy tips front of mind, you'll turn your Disney dining experience from just something in between attractions, into a special part of your memory. You'll make like Cinderella and will be the bell of the Disney dining ball ha.
Bon appetit!
*Shout out to my pal Ryan, one of the most passionate cast members you'll meet at Cosmic Ray's!